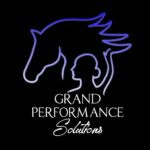 Grand Performance Solutions PEMF Wellness Sessions
Helping people & animals feel & perform their best
Since 2019, Grand Performance Solutions has been your source for MagnaWave PEMF – offering maintenance packages, show rates, combination discounts, and offering educational seminars and demonstrations throughout Northeast and Central Florida! 〽️〰️
Wondering how MagnaWave PEMF can help you and your animals? ?
PEMF is a SAFE, non-invasive, drug-free technology that works on a molecular level to improve cellular function – in short, PEMF supports and helps the body to take care of itself ??
⚡️Reduce pain, inflammation, & muscle soreness
⚡️Increase energy
⚡️Faster recovery
⚡️Improve blood flow & oxygenation
⚡️PLUS so much more!!
Enhance your training, competition, and recovery with MagnaWave PEMF, LZR Ultrabright Red Light, & more – call/text 904–417-8411 or message via social media to schedule a session!